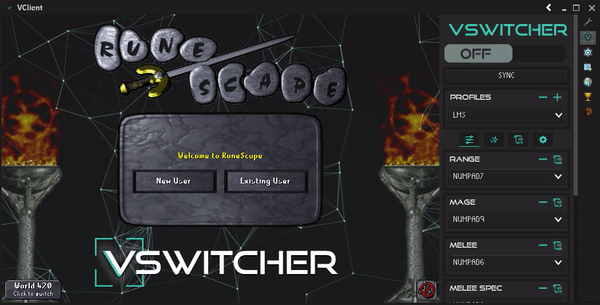 [VSWITCHER.COM](https://vswitcher.com/?ref=rsbotspot)
#1 OSRS CLIENT
PVP PVM SKILLING
BUILT IN CODE EDITOR
-> PRESETS (HOTKEY)
-> TRIGGERS (EVENTS)
-> SCRIPTS (LOOPS)
PROGRAMMABLE ACTIONS
• Item Switching • Food Consuming
• Potion Drinking • Prayer Switching
• Spell Casting • Unequipping
• Special Attacks • Attack Style Switching
• Dropping • Emotes
• Chat Spam • Walk Under
• Banking • Sleeps
• Attack Target • Conditional Logic
VSWITCHER.COM has taken things to a whole new level in PVP - PVM and now SKILLING.
This client has become a utility for most OSRS users. VSwitcher can be used for just about anything in the game.
!! FAIR WARNING !! You will question how you ever played OSRS with out VSwitcher once you start using.
With a track record of almost 5 years in this niche it has become nothing but perfection. We are all a family at VSwitcher. Trusted help, questions or even services are available in our community. With the foundation of VSwitchers systems ensure better practices when doing any transactions in the community and quality control.
We are constantly improving with updates coming out almost every day. Come join us and have the best odds at anything you do in OSRS.
JOIN OUR DISCORD:

OR GO TO OUR WEBSITE

PREVIEWS: