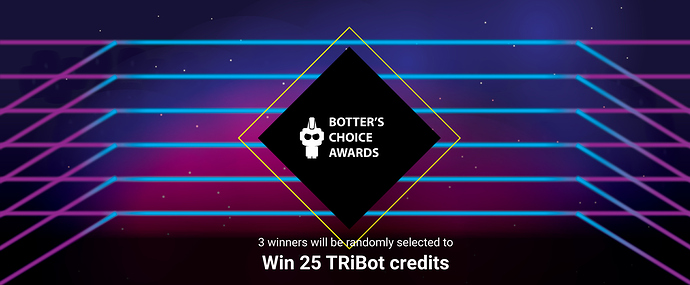 2019 Botter's Choice Awards
To celebrate the launch of our TRiBot Official RuneScape Bot Blog, we're doing a giveaway!
The TRiBot Official RuneScape Bot Blog:
Teaching you how to do more advanced botting, faster.
Contest Details
Prize: 3 winners will be selected to win 25 TRiBot credits.
How to enter:
Respond to this forum post by November 12th tagging the thread for:
Your favorite script
A brief explanation (1-2 sentences) why you think that script should be put in the top 5.
Who can enter?
Botter's who are not currently scripters. Sorry scripters, the people are going to vote.
The top 5 in each category will be showcased on our TRiBot Official RuneScape Bot Blog in a "People's Choice" section and promoted across the TRiBot website.
– Credits will be awarded based on thoughtfulness and humor –
Bonus points
Use a meme in your explanation. Because we all love memes.
*no purchase necessary. Winners will be announced on Friday, November 15, 2019 at 4:00 p.m. on the TRiBot community forum.
do not list your favorite scripts on the RSBotSpot forum as they will not count towards the contest.